This is the new, improved model of Kawasaki Ninja H2 known as H2 Carbon. 
If you are considering buying a new super fast motorcycle and in the same time you want to be human, then what we advise you to buy the new Kawasaki Ninja H2 Carbon. The reason way we are advising you to do that is the news that Kawasaki plans to donate $ 20,000 of the proceeds of the sale of "Road 2 Recovery", a foundation that helps professional drivers who experienced severe damage. 
But in order to decide either this bike is worth buying, let us convince you by presenting you his pictures and features. Designed to offer riding excitement at a level never before experienced this H2 Carbon model is a combination of sport riding and the kind of intense acceleration.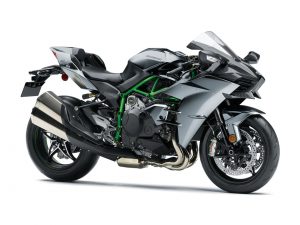 His best key features includes: bodywork developed with Kawasaki Aerospace Company to generate down force, 998cc four-cylinder engine fitted with a special designed Kawasaki supercharger for intense acceleration, supercharger uses planetary gears, spins at up to 130,000 rpm and develops up to 20.5 psi boost pressure, launch control, engine braking control, ABS and a quick shifter, new Kawasaki Intelligent Anti-lock Brake System (KIBS) corner braking control, with feedback from IMU, increases cornering capabilities, new contactless-type quick shifter that now allows for quicker shifts for seamless acceleration and quick and easy deceleration (downshifting capability new for 2017) new highly rigid, lightweight CFRP (carbon-fiber reinforcement polymer) upper cowl, new silver-mirror paint featuring a matte element.
The multimedia system it was designed to offer the drivers various settings to choose, and each mode will provide you a different level of intrusion to suit riding conditions and rider preference.
Kawasaki plans to produce only 120 samples of this limited edition of Ninja H2 Carbon, and only 6 of them will be on sale for the US market.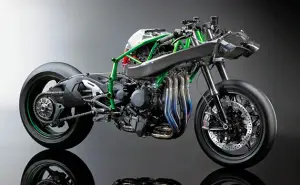 So if you are interested, or you are thinking about purchasing one of this limited model you need to react quickly because on February 13th you should log into the website of Kawasaki, to order him by leaving a deposit of $ 10,000 at the official store of Kawasaki, 48 hours after they indicate that you have been listed. The principle of the sale will be by priority or who first will order it that one will get it first.