One of the novelties that will be presented on at the upcoming Geneva Motor Show is the new limited collection of BMW i8 known as "Protonic Frozen Edition" with unique color of the body.
This collection will be available in two original and striking colors Protonic Frozen Black and Protonic Frozen Yellow.
The body of the BMW i8 Protonic Frozen Black Edition is painted in a combination of black and gray with a silky sheen, which is achieved by using special technology and aims to highlight the dynamic lines of the body made of carbon fiber.
A few months later of the promotion of the black variant, it will be promoted the yellow one, which is expected to be even more impressive especially at night.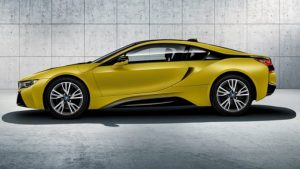 Given the fact that after their launch of the "I3", were sold more than 100,000 copies, BMW is optimistic that this new designs I8 will bring even greater earning or to be exact they have bold expectations that they would be able to earn the above mentioned amount of money in just one year.
The i8 it will propel up to 60 mph in 4.4 seconds and a top speed of 155mph. All of this will be due to the built-in 1.5-liter three-cylinder gasoline engine with the electric engine which will be able to generate 357 horses.
Let us present you a few features of the inner part of this new edition. The seats will be coated in yellow shell, as well as door panels, floor mats and the lower part of the dashboard. Ceiling it will be designed in anthracite color the straps will be gray and in the lever and in the iDrive controller will be embedded ceramic tiles. The special appearance will be completed by sills engraved with the name of the series.
What is not yet announced it is the price of this new limited I8 model in two colors. Purely for comparison, the price of the basic model of the i8 is 130,000eu.