Check this, Rusty Shell Sells for over $18 000, This 1971 Hemi Cuda Convertible Fetches 3.5 million at Auction!!!
We all have heard about cars reaching incredible value after a while but for the most part they were either extremely well cared for and maintained or they had actually gone thru the process of restoration, but to hear something that basically a heap of rusted metal in the shape of a 1971 Plymouth Barracuda 340 convertible sell for the price of a brand new Ford Focus, well that got our attention.
The car was advertised on E-Bay and after an intense auction battle which settled at 67 bids, the final price of $18,600 was met, to the pleasure of the seller we are quite sure.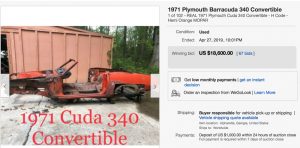 Another amazing price for an American Muscle car was also achieved as the documented only numbers matching 1971 Cuda went up on the auction block on the Mecum auction and fetched an incredible 3.5 million dollars, a price tag which would put many classic Ferraris to shame.