This awesome Aston Martin DB4 was left rotting for 40 years in the woods!
After the owner finds out how much it cost, he has sold it for an incredible amount of money. 
Aston Martin DB4 was the first commercial car that could reach out from 0 to 160 km/h in less than 30 seconds, when it was introduced in 1958. The DB4 was built to compete with sports cars such as Ferrari and Maserati. However, despite his good performances, one of the owners of this model quite forgot it and left him it to rot for 40 years.
Built in Britain and shipped to the USA over fifty years ago, this DB4 was one of the most powerful and desirable vehicles of its time. It's not clear why this amazing car was parked one day and not started again.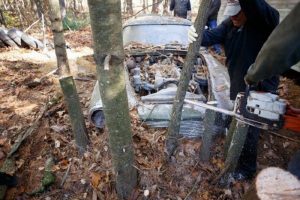 This Aston Martin was left to rot on open for decades, outside owner home in Massachusetts. Of course, the weather and the long stay outdoor left their traces on this car, so it is not a miracle that over the several decades of inactivity, rust formed and soggy leaves rose half way up the bodywork. Still, despite that he managed to stay "in one piece".
Classic cars often appear after spending years hidden away in barns and lock-ups, but it is highly unusual for such a sought-after and valuable vehicle to emerge from the woodland
After its rediscovery, this British -Aston Martin was found at an auction in Arizona. 
All the people present at the auction have recognized its real value and they were thrilled that one of them will be the new owner of this legendary beauty. So the Aston Martin was sold for a unbelievable 374,000 $ – almost 100 times more than its original price, right before they have taken him to be restored.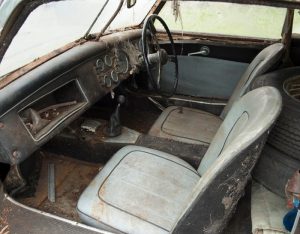 When the new owner will completely restore this Aston Martin, the 3.7 – liter engine will be able to develop 240 hp and reach from 0 to 100 for an impressive 9 seconds. The maximum speed that this Aston Martin will be 225 km/h, and we have to admit that will be a hell of a speed on the roads.
The legendary Aston Martin between 1958 and 1963 made a total of 1,200 samples of the model DB4, and has replaced one of the most famous cars in the world – DB5 which once was driven by the famous James Bond.