What always fascinated all of us, at the work of the German manufacturer Audi is the fact that they never really stop working. It seems like in their factory daily are presented various new drafts, new ideas for even better versions of the current ones.
Confirming that fact these days in the public were published the news that the next year will be presented the new generation of the fascinating Audi A6, which is consider to have a far more bold design unlike the current so-called conservative design.
It is announced that this new generation of Audi A6 will be based on Audi's modular-longitudinal MLB Evo architecture. For now it announced that it will be available in four variants: Sedan, Long wheelbase sedan for China, Avant wagon (which will be available outside the US) and the A7 hatchback.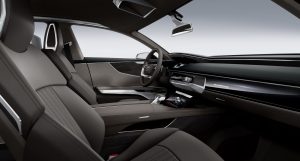 In order to reduce the current weight, for around 100 kg, Audi have announced that the material of the new version of A6 will be a combination of carbon fiber, aluminum and high-strength steel, which is considered to bring fuel economy for this new generation.
Speaking about the engine there are rumors that it will be introduced so called a "frugal plug-in hybrid e-tron", which is considered that it will be capable of around 32 miles on battery power alone. The basic version of A6 it will be designed with a 2.0-liter turbo four, with a turbocharged V-6 optional on the A6 and standard on the A7. What is likely to be applied to a 2.0-litre four-cylinder diesel engine it is the electric turbo tech.
Designing this new generation of A6, what is announced to suffer the most significant changes it is the inner part of the vehicle. What is interesting is the news that they are planning to incorporate three versions of displays: one in the centre console, second in the place of the traditional instruments and the third ahead of the passenger on the dashboard, and all of them will be well connected with modern gadges. One of the upgrades it will be the adaptive control and  the assistance systems for helping drivers  in traffic jams as well as more precise front and rear parking sensors, as well as some control button to assist you at parking.
Analyzing the announced features of this new generation of A6, we can safely conclude that it will be a worthy competitor to the excellent Mercedes E-Class and BMW 5 Series.