Who better will wear the legendary GTI badge than the new electric vehicle model designed by Volkswagen called I.D. This would be a first fully-electric car built on the MEB platform.
Although it will be released in few years, we're sure you will want to know more about this I.D. VW electric concept for its features and maybe if you like it, you should be able to start saving money to buy him.
Despite the fact that I.D Buzz model was a main star in Detroit fair, now it is time for them to concentrate on the future by planning their GTI version of the fully electric hatchback I.D, whose concept was shown at last year's Paris Motor Show, a vehicle which is consider to be revealed in 2020.
It is announced that this GTI model will have a 125 kW electric engine located in the rear which would be able to produce 168 horsepower or in other words an estimated acceleration and 0-100 km / h accelerates in less than 8 seconds, and it is expected to cover a distance of 400 to 600 km on a single battery charge.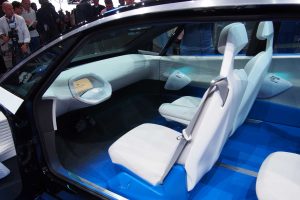 In terms of the inner part what is known until now is that, in this GTI model will be integrated "ID pilot mode" which will allow to the driver to chill on the driver's seat and with the little help of the radars, the ultrasonic and the laser scanners which will be working on the side and at the front cameras it is considered to be increased the safety of passengers in the vehicle, as well as the safety of all road users.
In the floor lowers in the center of the gravity it will be integrated the flat lithium-ion battery that it is consider to results with an ideal axle load/weight distribution. The interior will also offer an entirely new experience thanks to the Open Space concept.
And if the rumors are true the Volkswagen has set itself the goal of selling a million electric cars, by 2025 year.