These days the latest news come direct by the German manufacturer Audi, who has reported that they are in process of designing a new model known as the Audi Q3 SUV which it will be presented to the public and will be expose for sale in 2018.
According to the rumors his exterior it is expected to be slightly larger than it used to be, so that means that it would be some extra indoor space as well, especially for the legs. The trunk space will increase, the current volume now is 420 liters. In wide terms this would mean more comfort for the driver and the passengers too.
Speaking about the inner part it is familiar that the conventional instruments behind the steering wheel will be replaced with so called "Virtual Cockpit" display like more modern component. We can only assume that they will design more functional and advanced technological features to compete with all those brand new modern vehicles. The horizontal structure of the dashboard instead of the current vertical, will contribute for greater width of the cabin, so designers will have some space to add features of their own.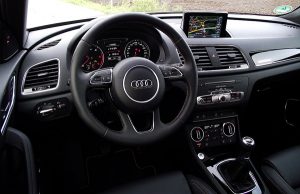 About the engines the most powerful variant it will be the RS Q3 which will be using the latest version of the 5-cylinder turbo engine of Audi. But the buyers will also be able to choose between the 4-cylinder petrol and diesel engines from 1.5 to 2.0 liters, with power between 150 and 220 horsepower.
For the fun part this model is expected to have a series of LCD screens, complete audio system with full connectivity package as USB ports, Bluetooth and a Smartphone integration system.
What is expected to increase the safety of its participants certainly are the airbags the cruise control, the ABS and the monitors. This model it will also has an adaptive control and assistance systems for helping you in traffic jams as well as more precise front and rear parking sensors, as well as some control button to assist you at parking.
Considering the fact that the new version of the SUV will shift the MQB platform that is used for Audi TT sports car, but also for Skoda Kodiaq SUV-by, we can expect that this new Audi Q3 SUV model will be able to use the plug-in hybrid technology.