What more can cause admiration than to be seen in public with a new extra luxury yacht.
It certainly worked for Toyota Motor Corporation president Akio Toyoda who last week has arrived at a Miami Beach waterfront mansion piloting the new Lexus Sport Yacht.
And not just some regular yacht but a 42-foot one-off concept, built by Marquis Yachts of Pulaski, engineered by the Toyota Marine Department, and styled by Lexus designers. An open sport yacht, 12.7 meters long with so called "dolphin" shape for recreational day-touring with six to eight guests, powered by twin high- performance Lexus V8s and with advanced styling.
Speaking about the structure of this super exclusive yacht, let us tell you that its engine is based on the one that powers Lexus' new LC500 coupe. Her concept's hull is made entirely of carbon fiber reinforced plastic, with two-component polyurethane resin impregnated with strips of carbon fiber.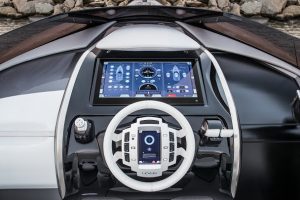 The upper deck and outer hull seamlessly bonded around the inner structure, her underwater hull design is stepped to reduce resistance or drag and improve handling balance at high speeds. We can notice that this modern yacht it is well equipped with a twin 5.0-liter V8 gasoline engines based on the 2UR-GSE high-performance engine of the Lexus RC F coupe, the GS F sport sedan and the new LC 500 grand tourer.
Driving the yacht at speeds up to 49 miles per hour, each of the engines will be able to produce 440 horsepower, with the help of the hydraulically powered internal, outboard stern-drives. The captain control it will be controlled through the large touch display which will be able to control the navigation, radar, sonar and the work of the two V8 engines.
Regarding the part for their fun and relaxation it is known that it has been integrated audio-video entertainment system which it will be fully networked, with 4G WiFi & WAN. Although it has small kitchen and bathroom which is considered to be a necessary, one of the remarks it is that this concept of Lexus Sport Yacht doesn't have separate section for sleeping.
But unfortunately, this model revealed in Miami it wasn't built for sale, at least for now although Toyota is trying to determine if there is a market for its yachts in the United States.