Facing with some harsh criticism for their comfort, the Japanese automobile manufacturer Toyota change their working motto into "driving a car should be a pleasure".
So although they have produced super modern and brand new models of vehicles, for the past few years they have redesign and improved some of their models like the GT86 sports coupe, to raise their driving dynamics, their comfort and their safety to an even higher level.
For that propose the GT86 sports coupe model this year was refreshed with two-liter atmospheric boxer Subaru and direct injection D-4S from Toyota with enhanced performance for stability, functionality and of course for better comfort and strengthening its body too.
What is considered to be one of the major changes is the incorporation of the "Track Modus", multimedia system with Bluetooth 6.1-inch touch screen and DAB tuner system that will allow to the control of stability and traction to crack the reins. The driver will be able to receive information about the strength of lateral acceleration, with a little help of the stopwatch to measure the time of the circle, as well as information about the instantaneous power and torque of the display.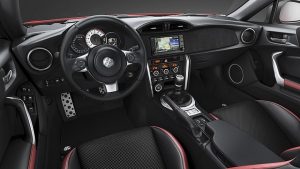 There have also been some changes in the light part, integrating some led technology for the headlights, daytime running lights and turn signals. Other features are the electric, heated door mirrors with a folding function, aluminum sport pedals, high-performance brake discs and pads, hill start assist and smart entry with push-button start.
Guided by the criticism of the internal look of this GT86 model, Toyota has made the smallest steering wheel so far been built-in serial pattern with a diameter of 362 mm, has replaced the paneling in the cabin and the paneling seats as well. Fans will certainly welcome the decision of incorporating heated front seats, leather and Alcantara upholstery, armrest leather driver and suede effect finish sporty instrument panel so as the door paneling.
It is familiar that this upgraded 2017 Toyota GT86 will be released for sale at the beginning of October. And those of you who are interested about the prices you can find them on the Toyota's official page. The good news is that this is just so called "preheating" because this year Toyota will release their newest model know as Supra.