What's new in the world of motorcyclists that we are certain it will be a true delight for all the fans of Mad Max, were the news published in the fashion week in Milan, and we are talking about the creation of a new limited Ducati model called Ducati Diavel Diesel.
For that propose to build new super cool unique motorcycle, Ducati accomplished collaboration with Diesel. This collaboration is more than welcome, given the fact that they always aspire to expand their interests and one thing is sure, they are not afraid of changes.
Speaking of this new motorcycle, until now public has been familiar only with the information about the design and his original stylistic and technical aspects. These days in the public for the delight of all fans of Ducati were presented almost all details about this limited edition of Ducati. So now we can notice why this model is so special.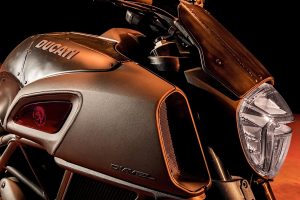 It has exclusive design leather saddle with DDD pyramid, frame which is made of stainless steel, on which can be seen latches and bolts that make this bike even more unique than the original, high efficiency air filter, black lateral anodized air intakes with visible welding exhaust pipes with black Zircotec ceramic coating, rear-view mirrors with stem and cup machined from solid, red Brembo front brake calipers, chain with five red links so as many other super features.
Despite all these great features one thing that make this bike so special are some hand-crafted parts of him like shield to the tank on which can also be seen nuts, the red LCD panels so as the leather seat for the passenger behind.
And for those who are interested about buying this new Ducati model, let us tell you that it will be exposed for sale in April but it will be limited to only 666 samples, so if you are a real fan of it you shouldn't allow it to miss him.