For the big surprise for all of us this year BMW has decided to reveal to the public their latest masterpiece the new generation of the 5-Series Touring and right just before its official discovery at the Geneva Motor Show in March 7th, 2017.
Given the fact that in recent years the model BMW 5 Series Touring has experienced significant success in the European market, the Bavarian manufacturer has confessed that this model was designed mainly for that market, so unfortunately it's unlikely to ever see it in the United States.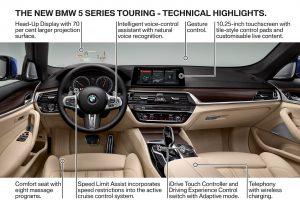 We can notice that for this new generation of the 5-Series Touring, BMW hasn't changed something significant, just some small positive upgrades.
Speaking about those changes for this new generation of the same model BMW has designed a lighter overall weight than its predecessor, and optimized aerodynamics and new engines enabled reduce harmful emissions by 11%.
And for the engine, what we are familiar so far is that for model are provided two types of engines, the petrol and the diesel engines. The new 530i Touring will be powered by the known 248hp turbocharged 2.0L four-cylinder unit while the 540i xDrive is getting the 3.0L six-cylinder one with 335hp and 450 Nm (332 lb-ft) of peak torque. 
The Diesel BMW 520d Touring it is consider to be based on the 2.0L engine with 190 hp and 400 Nm, while the standard version works with 6-speed manual transmission. An automatic 8-speed is optional.
His carrying capacity is upgraded to 725kg and his air suspension is fitted to the rear axle for automatic self-leveling. For more functionality the rear seats would be able to be controlled using a button in the trunk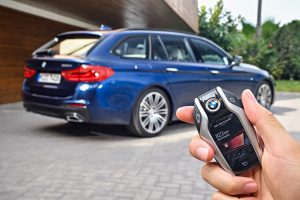 Despite all those advanced technological features of his predecessor like that super system for autonomous movement and the possibility of parking without the driver to be in the vehicle, this new generation comes with a 10.25-inch display and gesture control.
The latest upgrade includes display and a whole various active safety systems, like the Priority warning and the Crossing traffic warning, the Lane keeping assistant and the Lane Change Assistant, as well as a system that keeps an eye on the lane markings and the area around the car, like one type of a help that driver need to avoid looming collisions by automatically applying corrective steering inputs.