Ferrari J50,  to celebrate the 50th anniversary of their first entry on the Japanese market.
Ferrari on 13 December 2016, during a special celebration held at the "National Art center" in Tokyo, has presented a new special edition model so called "Ferrari J50" upon an already excellent model with sharp styling and quantities so limited that it's guaranteed to be an appreciating asset.
This special edition model "Ferrari J50" it is a two-seater, of which mid rear engined roadster are marking the returning of the so called "targa" body style which reminds us of several well loved Ferrari road cars of the 1970s and the 1980s.
Designed by the Ferrari "Styling Cente" team in Maranello, just 10 examples of this "J50" will be built and in the spirit of Ferrari's tradition, each of them will be specifically designed according to the customer requirements, so there's a good chance that all 10 cars will be wildly different from each other.
One of the things that most concern all the good connoisseurs of vehicles is for sure the interior design. Based on that fact, we must mention that this model is based on the model "488 Spider", a 3.9-liter twin-turbo V8 engine whose power related to the "Spider" model has improved by 20 hp. This specific engine, however, has been tuned up to 690 horsepower, versus the 488's stock 660-hp output, because heaven forbid your one-of-10 sports car has the same power as something else.
They are some interesting features about this "J50". There's a black dividing line across the body that's reminiscent of some of Ferrari's best models, like the "F4". The hood is lower, which gives the front fenders very strong arches. The radiators have been pushed together, allowing the bumper to be reshaped. There are some unique pieces inside, as well, like special sport seat trim and a spot behind the seats that houses the carbon fiber targa top when it's not acting as a roof.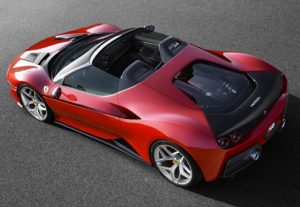 And speaking about the price, there are no published details yet, but in any case it is assumed that it will be at least 243 000 euro, which is the price of the standard "488 Spider".
This "J50" model is a product of special projects department of Ferrari. As all the other models this "J50" as latest model designed by Ferrari has an extremely impressive style. Ferrari sure knows how to celebrate a milestone.