According to the various internet sources it seems that Porsche has a plan to expand the supply of SUV models with a new coupe model based on the next-generation Cayenne.
It is assumed that this model will be a competitor for the"BMW X6" and the "Mercedes-Benz GLE Coupe", and we are familiar with the information that they already registered the first prototype for testing.
Good connoisseurs of these types of vehicles are assuming that the branch of this prototype is fully electric or hybrid, and they explain that those facts are easily noticeable by the signs that are warning about the voltage on some of the doors. They are also speculating among themselves that the new "Cayenne" will be based on the same platform on which it is made the "Panamera" itself, who already has integrated hybrid technology.
The advantages of this new "Cayenne" would be that this vehicle will have lighter weight and improved rigidity, brought about by a combination of high-strength steel, aluminum and even some carbon fiber in the mix. It is expected that the new "Cayenne" will weigh as much as 220 pounds less than the current model, which in base trim still weighs in at almost 4,500 lb.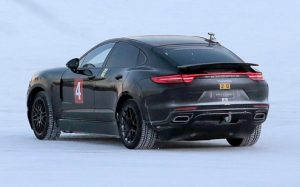 The current Porsche Cayenne has been in manufacture since 2011 and it is expected that the new one it will appear very soon after releasing the coupe model. The choice of engines and transmissions, including the electrical technology that these models will be using will be identical between the two Cayenne models.
This super new SUV so-called Cayenne it is very important to Porsche's success because as we all know it will be a great money-maker. According to that fact, cashing in on the lucrative crossover market gives the company a stable income with which this manufacturer it would be able for further develop on its sports cars, such as the famous "911", "Cayman", and the "Boxster".
And for those who are interested, prices for this latest Cayenne haven't been announced yet but we wouldn't expect them to be  significantly different to the current model and the range will include  familiar performance models like the "Cayenne Turbo" and  the "Cayenne GTS".