After a long time and numerous speculations about the engine performance, manufacturer Ford has finally released some details about their new model of "GT".
Two years after the premiere presentation of the conceptual model of the second generation of the GT, Ford has released some technical details about the GT sports supercar that will be available only in 1,000 original samples.
These days  also have revealed that the GT has centrally located 3.5-liter "Eco Boost V6" bi-turbo engine able to develop 655 hp and 745Nm maximum torque. So the riskiest aspect of the GT, however, is will be the power train. If the cylinder count seems low, take heart that the engine descends directly from the one in Ford's Daytona-winning IMSA prototype sports racer. The mass of the car without fluid in it is 1,385 kg, and the maximum speed you would be able to achieve on the roads is 347 kilometers per hour. So they assures us that this car is the fastest production car in the history of Ford.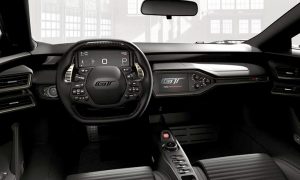 Another of the development team's priorities was minimizing mass. The GT's chief engineer, Kip Ewing, calls the target weight "extraordinary," thinking about the 2800 pounds. The car's central tub and bodywork are carbon fiber, with the front and rear substructures and most of the suspension constructed of aluminum.
But we can't notice that Ford has not released yet the official details about the acceleration from 0-100 km/h.
Ford also made public the information that they will start to produce 250 copies annually of this super "GT" in their factory in Canada and they assume that their production will take four years to design them. But what should concern us are the news about the starting price of this super "GT", which is announced to be around 450,000 $, so it is likely that many fans wouldn't be able to afford this model.
The GT's chief engineer Kip Ewing, assures that the engine won't be the GT's only link to the track. A racing-style, pushrod-activated suspension setup enables the car's unique body sides, so as he said the "first and foremost obligation of this super "GT" it is to be an excellent track car." So know as we heard the news that one of their super vehicles "GT" have scored better time on the Canadian track "Calabogie Motorsports Park" and with that time he placed himself before the "675LT McLaren" and the "Ferrari 458 Speciale", we sure believe at those words.