Today we represent you the worlds mos expensive Jaguar E-Type! 
What can $7.37 million get you in an auction? At least we know for sure what you will able to get from the Bonhams sale, or to be more precise, if you had that amount of money you would have walked away with a championship-winning 1963 Jaguar E-Type. So let's be clear that amount of money spent on a vehicle makes him the most expensive E-Type ever sold at auction, and the most expensive Jaguar ever sold post 1960.
According to the "Daily Mail, the famous Enzo Ferrari called him the best-looking vehicle in the whole world". The car was sold for 50 to 100 times more compared with the standard E-type vehicle.
This concrete example of Jaguar has been driven only 6437 km in his 55 year history, and it had only three owners. During the time when this E-Type was owned by his second owner, the car was fully restored in 1999 by Lynx Engineering in England and consigned to an auction in Florida. The one thing special about this example of Jaguar it is the fact that, back then when the restorers noted how original it was, they still retained things like the original stampings, body tags, and related rivets, so it is no miracle why this vehicle have never been disassembled for restoration to that point.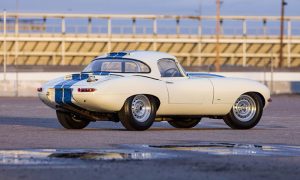 It has a 6-cylinder engine NIF develops 293 hp and transmits power through a 4-speed manual transmission, his engine packs a 3.8-liter engine and it is able of developing more than 300 bhp. It has a 6-second 0-60 mph dash time, with a top speed of more than 150 mph.
This rare 1963 Jaguar E-type was designed with a stripped back and was made to out bid the Ferrari on the race track. It has now become one of the most valuable British cars ever sold publicly.
This was the first time that one of these rare sports racers of which only twelve were originally made came up for auction in over a decade. So recognizing the perspective, in 2014, have been decided to be build the remaining six lightweight models with exact specifications as those of the 1963-1964 vehicles was announced. In fact, all 6 Jaguar E-type were quickly sold with no more than £1 million each, according to Express UK.
But although the price of 7.37 million is incredibly high, it is not even close to the price of the most expensive Jaguar ever. Last year a D-Type from 1955 was sold for the price of 21.78 million dollars.