To the delight of all the lovers of good motorcycles recently has been presented the new concept of a "wonder bike" known as Moto Racer!
After its discovery, good connoisseurs of bikes not give their comments and reviews and we can notice that almost all of them came to the same conclusion that this new bike it is a "miracle that has never been seen before", and we sure can agree with them.
Huge Motor has launched their work based on inspiration from their existing vehicles, combined with aggressive lines and interesting details carefully designed to attract the attention of potential buyers.
From his virtual concept we can see that this new miracle will have retro-modern design aesthetic, with track-proven frame geometry, with hell of a component setup and aerodynamics.
Huge Motors has announced that their purpose is to make a real bike as much is it possible, with strong performances for greater functionality.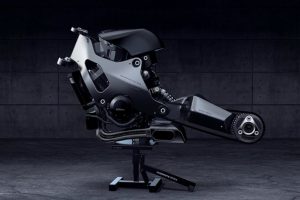 They note that their goal is not to annually produce one model that will be average, but that they want to focus on new single bold unprecedented concept.
What is certainly the biggest challenge at designing this kind of bikes is the creation of super fast engine which will not lead to a reduction or risking the safety and comfort of the driver and the passenger behind. And judging from the reviews this concept called Moto Raiser has managed perfectly to merge the two things at the highest possible level.
The courage of producing this kind of a bike is certainly respectable, and we have to mention that Huge Motors were supported in this idea by their loyal fans at the very beginning in the first phase.
What is expected after the presentation of this refined concept is that Huge Motors will  assemble a team of top engineers who will have purpose "to give life" to this design.